Location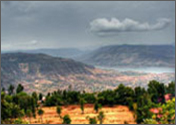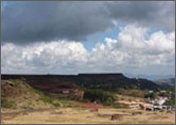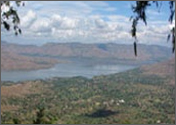 Panchgani and Mahabaleshwar, the queens of Hill stations in Maharashtra, are located in close proximity to each other. Panchgani, a small peaceful town, is situated at a height of 4300 feet above the sea level. It has the world's largest table land located on a hill rock.
Panchgani has the best weather in all the seasons. Its cool weather in summer is very soothing. One enjoys its downpour in the rainy season and the winter weather is just wonderful.
The town offers all the necessary amenities and facilities.
How to reach Panchgani
Nearest Airport: Pune
Nearest Railway Station: Pune (120 Kms), Satara (55 kms)
Panchgani by Road
Panchgani from Pune
Panchgani is just under 100 kms from Pune. First 70-80 kms is via NH4 (Mumbai - Bangalore National Highway 4) which is a toll road and then you need to make a right turn at Surul Village to go to Wai - Panchgani. Ample signboards are there on the road to guide you through.
Panchgani from Mumbai
To reach Panchgani you could either take the Goa Highway route or take the route via Pune.
Goa Route (238 Kms)
Panvel - Pen - Mahad - Poladpur - Ambenali ghat - Mahabaleshwar - Panchgani
Panchgani via Pune(275 Kms)
Mumbai – Pune – Shirval - Surul – Wai – Panchgani. This route would be safer and faster thanks to better roads.
Panchgani from Kolhapur (175 Kms )
Kolhapur – Karad - Satara – Panchwad – Wai - Panchgani
Road Map from Mumbai / Pune / Satara to Panchgani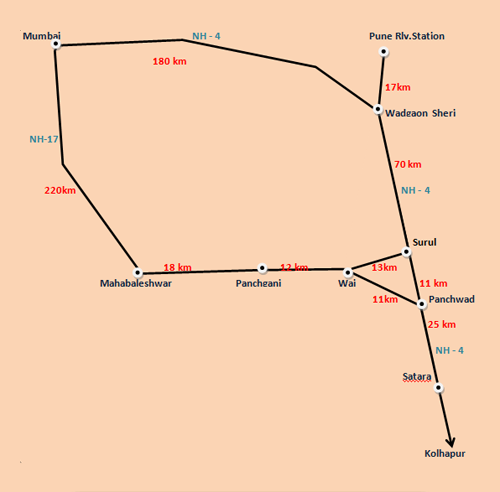 Road Map from Panchgani Market to Bharati Vidyapeeth God's Valley International School
Click on the image to enlarge view.